Kervyn B. Altaffer Jr.
---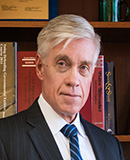 Trial attorney steeped in integrity and honesty with thirty years of practice in federal and state courts. Focused on achieving the best possible results based upon the facts and circumstances of each case, whether through trial, mediation, or arbitration. Skilled legal analysis, case strategy and case management from inception through conclusion. Successful summary judgment, jury trial and non-jury trial experience. Experienced selection of, consultation with, and deposition of expert witnesses. Excellent rapport with clients, lawyers, staff, and court personnel. Friendly, considerate and caring for all persons.
Experience
Law Office of Kervyn B. Altaffer Jr., Dallas, Texas
Owner Austin, TX 2011–2012, Dallas, TX 2012–2015
(Altaffer & Palat, PLLC, Austin, TX Partner/Member 2010–2011)
Represented individual and corporate clients in lawsuits in federal and state courts dealing with civil rights, commercial law, consumer law, employment law, fiduciary law, intentional torts (defamation, fraud, malicious prosecution, theft of trade secrets, etc.), and real property law (foreclosure, landlord/tenant, ownership disputes). Represented creditors (claims, foreclosure, liens, etc.) and debtors (Chapter 7 only) in bankruptcy court.
Legal Aid of Northwest Texas, Dallas, Texas
Managing Attorney of Housing, Consumer Protection, Economic Benefits Division, 2002–2009
All cases for attorneys handling non-family law cases in Dallas Office (9–14 attorneys).
Managing Attorney of Bankruptcy Group and Income Tax Group, 2005–2009
All bankruptcy and income tax cases in all fourteen offices of Legal Aid.
Represented individual clients in federal and state lawsuits involving housing/foreclosure, consumer, employment, probate and fiduciary law, and bankruptcy.
Clark, West, Keller, Butler, and Ellis, Dallas, Texas
Partner, 1992–2001; Associate Attorney 1984–1992.
Represented corporate and individual clients in lawsuits involving federal and state employment and labor law, deceptive trade practices (DTPA), fraud, malicious prosecution, breach of contract, real estate/foreclosure, products liability, and commercial cases and in preference and stay actions in bankruptcy courts.
Honors
AV Preeminent Rated, Martindale-Hubbell
Life Fellow, Texas Bar Foundation
Texas Verdicts Hall of Fame 2013, Texas Lawyer and ALM
Texas Civil Rights Project–The Kristi Couvillon Pro Bono Award–2015
Admissions
United States Court of Appeals, Fifth Circuit
United States District Courts of Northern, Eastern, Western, and Southern Districts of Texas
United States Bankruptcy Courts for Northern, Eastern, Western, and Southern Districts of Texas
State Bar of Texas and American Bar Association
Education / Military
Texas Tech University School of Law, Lubbock, Texas
Juris Doctor, May 1984, cum laude
United States Marine Corps
First Lieutenant 1976; 1978–1981
Rice University, Houston, Texas
Bachelor of Arts, May 1976
Appellate Decisions
Burney v. Citigroup Global Markets Realty Corp., 244 S.W.3d 900 (Tex. App.–Dallas 2008, no writ)
Montes v. Scott, No. 11-03-00096-CV, Eastland Court of Appeals (not published)(pet. denied)
Clopton v. Pak, 66 S.W.3d 513 (Tex. App.–Fort Worth 2001, pet. denied)
Shorts v. United Parcel Service, Inc., No. 0539-3, U.S. Court of Appeals Fifth Circuit
Speaking / Teaching
Dallas Bar Association Consumer Creditor Law Seminar, September 2009, Debt Settlement
Panelist KERA Channel 13 TV, The Economy: Facing The Mortgage Crisis, July 2009
State Bar of Texas Poverty Law Conf., April 2004, 2005, 2006, 2007, and 2008–litigation topics and employment law topics
Southern Methodist University School of Law Poverty Law Clinic, Fall 2002 and Spring/Fall 2003, Instructor and Student mentor on
Discovery, Litigation, and other topics
Community Service
Volunteer helping the homeless: Metro Dallas Homeless Alliance–member; Operation Care International, Dallas, Texas; Austin Resource Center for the Homeless, Austin, Texas.