Lunbing Chen
---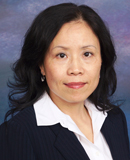 Ms. Chen is the partner/member of Altaffer & Chen PLLC.
Previously, Ms. Chen practiced law in Shenzhen, China, for years. She was long-term counsel for corporations and represented them in litigation and other legal matters.
Ms. Chen was admitted to practice law in Texas by the Supreme Court of Texas in November 2015. She was also admitted to practice in the United States Court of Appeals for the Fifth Circuit and the United States District Courts for the Northern and Southern Districts of Texas.
Ms. Chen handles civil rights cases brought under 42 U.S.C. Section 1983 (see Turner v. Driver, 848 F.3d. 678 (5th Cir. 2017)) and immigration matters.
Ms. Chen graduated from University of California Davis School of Law with an LLM degree in May 2012. She earned her Juris Master degree (certified equivalent to JD) from China University of Political Science and Law, Beijing, China in June 2004.